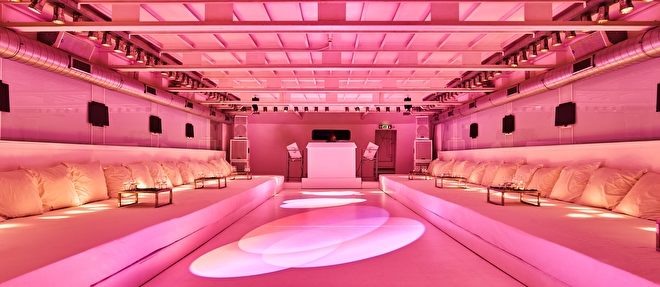 Visit Supperclub Cruise for an ultimate dining experience. Sit back and relax, enjoy our international cuisine when meanwhile provocative performances will leave you either inspired, laughing or simply confused. At Supperclub Cruise nothing is obligatory and anything's possible. However, do remember to wear clean socks.
Docked at Pier 14 behind Amsterdam Central Station, the three-decked heavyweight will pick you up at 7:30 pm and take you away for a night to remember. From there you may take place on our signature crisp white beds in La Salle Neige or in Le Bar Noir to see the flashing lights of Amsterdam passing you by. During the evening, the DJ plays exhilarating music for you to dance the night away. At the end of the night our captain will drop you off right where it all started.
Hop on board and expect the unexpected!
Supperclub Cruise is open for dinner on Friday and Saturday evening. Enjoy a delicious 4-course chef's menu, always prepared with fresh ingredients. Dietary wishes or allergies are always taken into account on the night itself.
Click here for the dinner cards from Supperclub Cruise.
Visit the website of Supperclub Cruise for more information and the latest specials.
Shopping cart
No items in shopping cart.